Join us at Burning Bike to commemorate your trip to Bike Week.
Get your chance to pose for pictures and sign the GIANT wooden motorcycle sculpture before it goes up in flames.
The annual Burning Bike continues a tradition that started long ago in the spirit of a lifestyle that so many bikers hold dear. This is Special Event to Remember a Loved one. Come sign or write a message on the 75' wooden handmade bike before it is burned and all the written messages are sent up above to the one's we love and so dearly miss.
Performances by the globe of death, fire dancers, high wire acts, stilt walkers, great food, drinks & vendors. Guest all week long can sign and pose for pictures beside the huge wooden sculpture before we burn it down. This will be an event like no other that you will never forget. There will be daily bike shows/exhibits along with largest swap-meet in the central Florida area and on burn night a Bikini contest. All leading to the burning of our namesake bike. The giant motorcycle that has stood as the events centerpiece is crafted entirely of reclaimed wood and is sure to cast flames long in to the night. There will be bands, food and fun.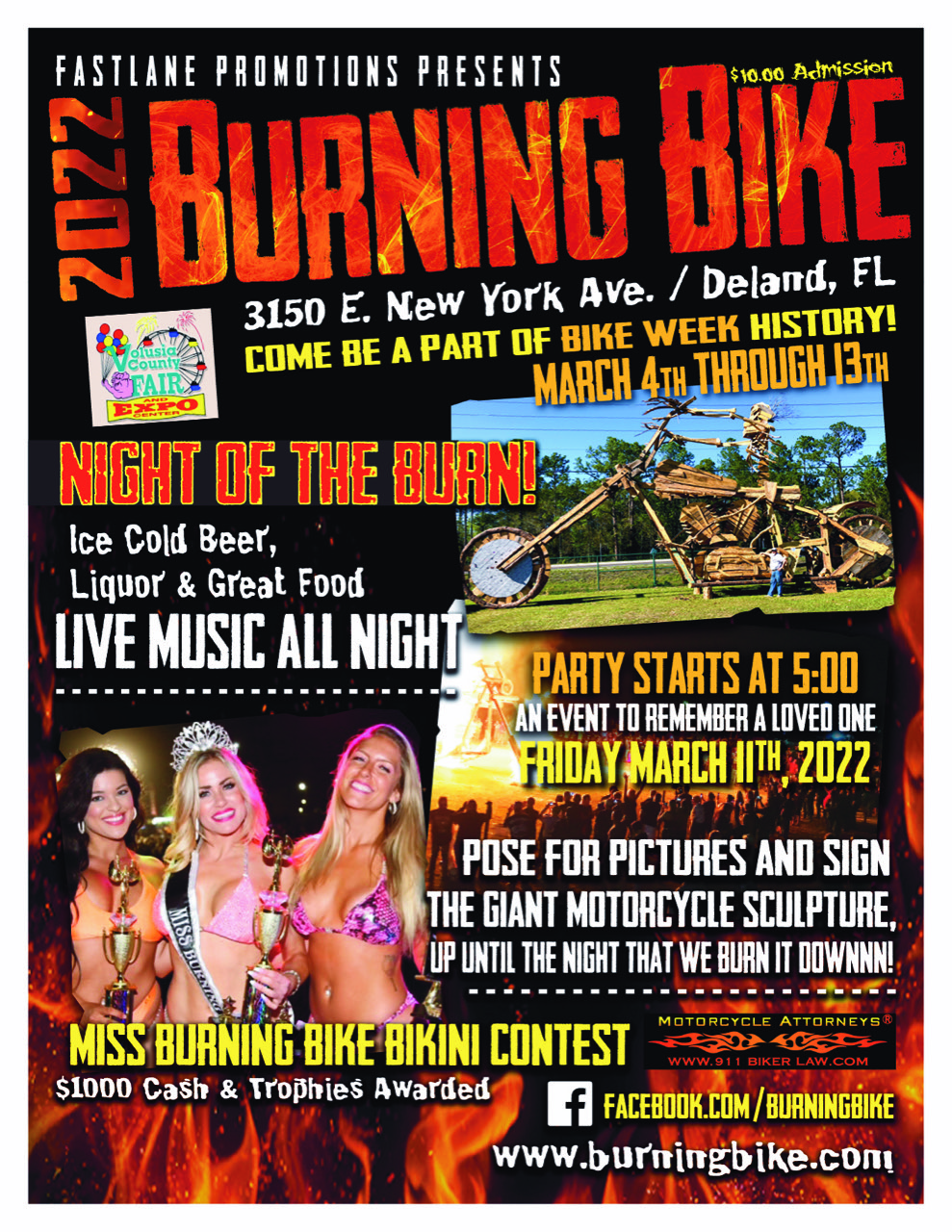 Get your chance to pose for pictures and sign the GIANT wooden motorcycle sculpture before it goes up in flames.
Burn Party Starts @ 5 pm Friday March 11th 2022
and goes all night long. If you stay in the Fastlane Campground you will have free tickets and walking distance to your campsite.
BOOK NOW
The pin in the middle is the campground. Daytona and New Smyrna beaches are 20 minutes away.
Burning Bike will run through bike week leading to the festival's climax when we burn the bike on Friday March 12th at Fastlane Campground with plenty of parking, a swap meet and acres of camping. Join us as we make "Bike Week History" with the Burning of the Bike.
Fastlane has strived to make Burning Bike an all-inclusive experience by meeting the needs of all guests. The easy access parking and short/long term campsites make for a safe, secure, and convenient place to enjoy the festivities, and all that the area has to offer.
Whether you've traveled from "around the globe", or rode in from "around the corner". The annual Burning Bike festival promises to give guests a new and unique experience, while maintaining the traditions and mystique that is Bike Week Daytona Beach.
If you stay at the Fastlane Campground you get free passes to our Swap Meet and Burning Bike. BIKE WEEK CAMPGROUND